Study evaluating the feasibility of tolling and managed lanes
For the State of Michigan
Who is conducting this study?
The Michigan Department of Transportation (MDOT) at the request of the Michigan Legislature
Michigan Public Act (P.A.) 140 of 2020 and Public Act 73 of 2022, required MDOT to hire a consultant to prepare a tolling and managed lanes feasibility study and strategic implementation plan for the state of Michigan. Through a competitive procurement process, MDOT selected HNTB Michigan, Inc. to perform this study. Working with HNTB and CDM Smith (subconsultant), MDOT is conducting the Michigan Tolling Feasibility Study.
Why is tolling being studied?
Michigan Legislation
Transportation infrastructure is vital to Michigan's economy and way of life. The costs to improve and maintain existing roads and bridges via motor fuel tax and registration fee revenue routinely outpace available funding. In 2020, the Michigan Legislature required MDOT to evaluate tolls as an additional way to finance transportation improvements to Michigan's interstate and highway system.
LEARN MORE ABOUT THE LEGISLATION
New Technology
The emergence of electric vehicles (EVs) will further reduce the already inadequate transportation revenue obtained through the motor fuel tax. EVs essentially do not pay for the roads they drive on. By moving to a more sustainable revenue source, everyone pays their fair share and it provides an opportunity to prepare Michigan's interstate and highway system for future smart infrastructure networks. These innovations offer the prospect of a transport infrastructure system that suffers less congestion, is safer, and can be maintained predictively.




Federal Programs
Currently, there are five federal programs that allow for the implementation of tolling in Michigan. Three of these programs are available today with no additional federal approvals for tolling projects providing:
New capacity (i.e., new lanes)
Bridge and tunnel reconstruction
Conversion of existing high occupancy vehicle (HOV) lanes to high occupancy toll lanes
Two other programs are pilot programs that require approval by the federal government and they focus on tolling lanes that are rebuilt or applying congestion management toll rates.
Modernizing Michigan's Interstate and Highway System
Built in the 1950s and 1960s, a significant portion of Michigan's interstate and highway system is approaching the end of its useful life. Maintenance to these roadways consume the greatest share of available existing revenue sources, with very little funding left over to modernize it.
Tolling could provide a dedicated revenue stream that could be used to modernize Michigan's aging interstate and freeway system. This dedicated funding to tolled facilities will free up other funding to further invest in the remainder of MDOT's trunkline system. 



Where is tolling being evaluated?
Michigan's "limited access" corridors
This tolling study is evaluating all Interstate routes (i.e., I-94, I-96, I-196, I-375, etc.), U.S. highways that have controlled access (i.e., US-10, portions of US-131, and portions of US-127, etc.), and limited M-routes that are expressway only (i.e., M-6, M-10, etc.).
What is a limited-access facility?
The Federal Highway Administration (FHWA) uses access control as a key factor in how they classify roads and highways across the country. The use of the word "access" in "limited access" or "controlled access" refers to the ability to access the roadway. Access to these roadways is controlled or limited to maximize mobility by eliminating conflicts with driveways and at-grade intersections that would otherwise hinder travel speed.
What is the study schedule?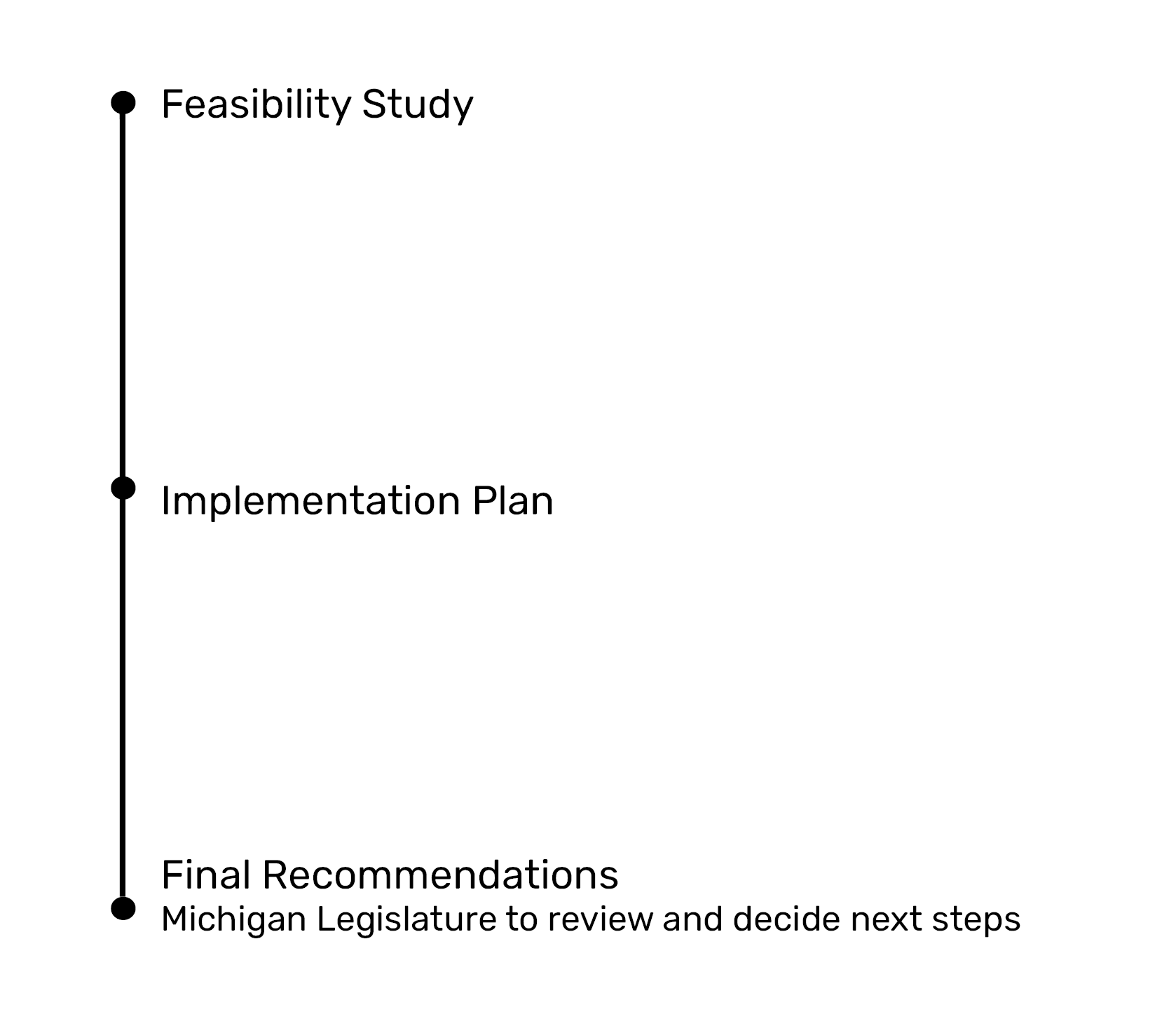 Tolling is not something that
can be implemented overnight
Based on experience from other states it is a potential long-term strategy. If the study determines that tolling is feasible for Michigan, tolling is not a solution that can be implemented overnight. In general, it took around three and a half or more years to implement tolling in other states where a policy decision was made to advance tolling. For example, the exhibit below shows typical timelines to develop a toll collection system.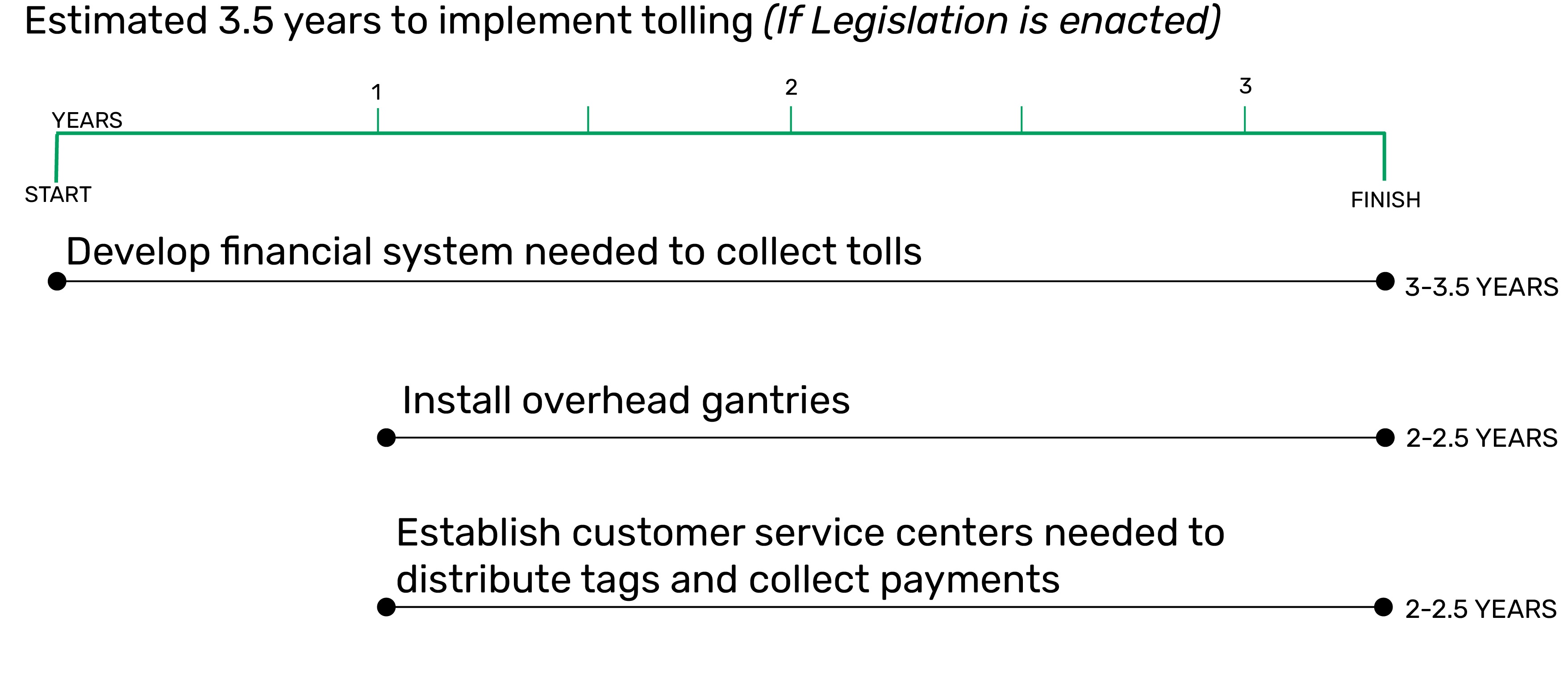 Please take a moment to leave us your comments and share your input. Please note, the form will ask for contact information in order to add you to our stakeholder network.