Learn more about the evolution of tolling and modern tolling technology
All-Electronic Tolling
High-speed tolling

No cash accepted on roads/no stopping

Detect vehicles

Classify vehicles

Read transponder or license plate
Priced Managed Lanes
The driver has a choice to use the toll lane or not

Toll rates are dependent on the demand for usage of the managed lanes

As the photo to the right shows, the managed lane (or in this case express lane) has a toll associated with it and has less congestion compared to the non-tolled lanes to the right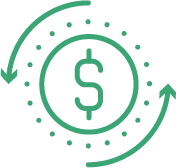 Sustainable Funding Source with Improving Fuel Efficiency and Electric Vehicles
As fuel efficient and electric vehicle technologies advance, the motor fuel tax becomes a less effective method for collecting funding for transportation. Tolling could provide a funding boost to Michigan's transportation infrastructure.
Improved Road and Bridge Conditions Lower Vehicle Operating Costs
On a toll road regularly maintained by its own fees, the dangers of potholes and other sources of costly vehicle damage will be greatly reduced. FHWA estimates that each dollar spent on road, highway, and bridge improvements returns $5.20 in the form of lower vehicle maintenance costs, decreased delays, reduced fuel consumption, improved safety, lower road and bridge maintenance costs, and reduced emissions as a result of improved traffic flow.
More Predictable Travel Times
A 2019 study from the state of North Carolina, showed that installing a toll road led to decreased congestion on surrounding roads and more predictable travel times for all drivers in the study area. High-speed all-electronic tolling technologies eliminate the need to stop or slow to pay cash tolls.
Congestion Relief
Congestion pricing benefits drivers and businesses by reducing delays and stress, by increasing the predictability of trip times, and by allowing for more deliveries per hour for businesses. 
Traffic Diversion
Drivers diverting from a toll road and seeking other routes is often a challenge with tolling. Potential diversion needs to be analyzed and considered in detail in light of the overall objectives of any tolling program.
Tolling Is Not Equitable
Tolls can affect low-income populations the hardest. This study will explore discount and equity programs to alleviate the burden of tolls for low-income populations. The Virginia Department of Transportation (VDOT) has done this well with the 
VDOT Toll Relief
 program.
More Expensive to Collect
The cost of collecting toll revenue includes the cost of toll collection equipment, back-office software and staff, and customer service systems. Other sources of funding, such as motor fuel taxes, also have administrative costs associated with them. While the cost of collection for tolling has been declining over time as the technology improves, it remains higher than costs to collect motor fuel taxes.
Double Taxation
Michigan already has a system designed to collect federal motor fuel taxes, vehicle registration, and other taxes and fees to build and maintain its infrastructure. However, there are concerns about the long-term viability of motor fuel taxes given improving fuel efficiency and electric vehicles. Charging motorists for a toll and motor fuel tax could be viewed by some as double taxation: a motor fuel tax, a vehicle registration fee and a toll.
Today's AET tolling technology does not require toll booths or stopping. Drivers can continue to travel at highway speeds.
Only need space for a gantry to be built on the mainline.
Collection costs average between 12% and 18% of the tolls.
Tolling means you have to put toll booths in the middle of the road.
You have to add toll both plazas at every freeway exit.
It costs 50% of the toll revenue to collect the tolls.
States evaluating new tolling programs:
IN: Complete interstate system

WI: Complete interstate system
MN: Interstates and limited access
CT: Interstates and limited access
OR: Portland region (I-5 and I-205)
AL: Bridge tolling 
MI: All limited-access freeways (P.A. 140 of 2020 and P.A. 73 of 2022)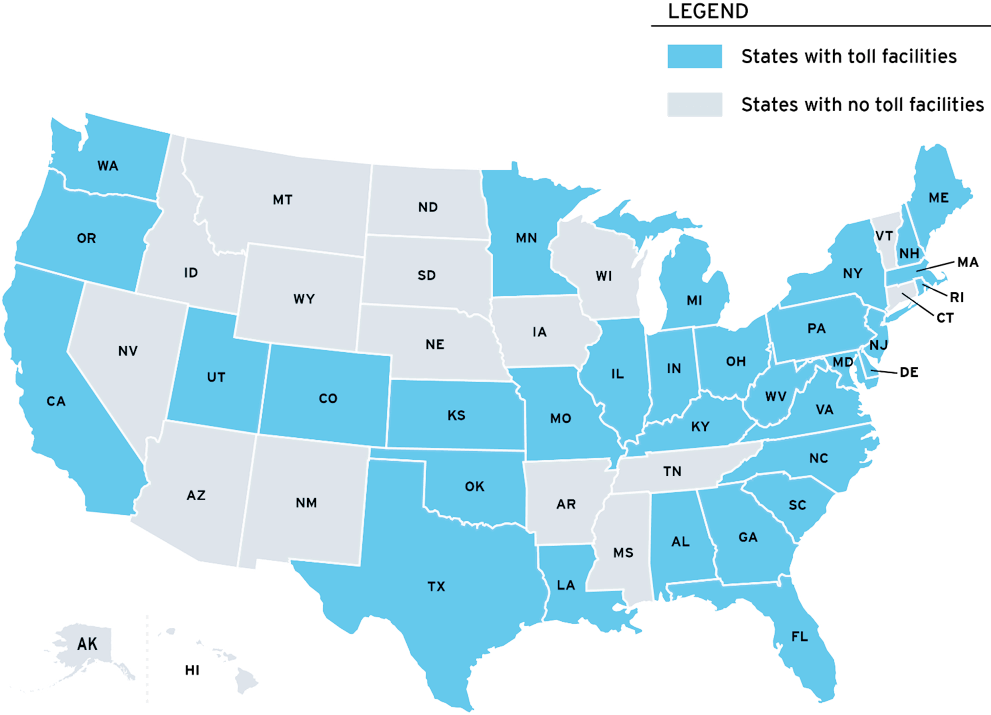 MDOT's Talking Michigan Transportation Podcast
| | |
| --- | --- |
| | |
| WSDOT: Why rates change on express toll lanes | |
| | |
| --- | --- |
| | |
| Tolling program administration | |
| | |
Please take a moment to leave us your comments and share your input. Please note, the form will ask for contact information in order to add you to our stakeholder network.