Learn more about the evolution of tolling and modern tolling technology
All-Electronic Tolling
All-electronic tolling means no construction of or stopping at toll booths and less congestion.
Collect tolls at highway-speeds

Collect tolls electronically – no stopping at toll booths

Detect and classify vehicles electronically

Read transponders electronically

Read license plates using cameras for those vehicles that do not have a transponder
How Does All-Electronic Tolling Work?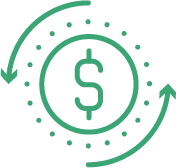 Sustainable Funding Source with Improving Fuel Efficiency and Electric Vehicles
As more fuel efficient vehicles and electric vehicle technology advance, the motor fuel tax is becoming an ineffective method for collecting funding for transportation. Toll funding could provide a funding option to maintain and improve Michigan's transportation infrastructure.
Congestion Relief
Congestion pricing benefits drivers and businesses by reducing delays and stress, by increasing the predictability of trip/travel times, and by allowing for more deliveries per hour for businesses.
Improved Road and Bridge Conditions Lower Vehicle Operating Costs
On a toll road that generates and maintains its own fees, the dangers of potholes and other sources of costly vehicle damage will be greatly reduced. FHWA estimates that each dollar spent on road, highway, and bridge improvements returns $5.20 in the form of lower vehicle maintenance costs, decreased delays, reduced fuel consumption, improved safety, lower road and bridge maintenance costs, and reduced emissions because of improved traffic flow.
Traffic Diversion
In adding tolls to existing routes, drivers diverting from a toll road and seeking other routes is a challenge. In the Strategic Implementation Plan analysis, the highways that were analyzed for future tolling were estimated to have average diversions to other parallel routes of about ten percent.
Equity
Tolls can affect low-income populations the hardest. As documented in the study reports, the State of Michigan Tolling Study includes specific discount and equity program examples to alleviate the burden of tolls for low-income populations.
More Expensive to Collect
The cost of collecting toll revenue includes the cost of toll collection equipment, back-office system software and staff, and customer service administration considerations. Other sources of funding, such as motor fuel taxes, also have administrative costs associated with them. While the cost of collection for tolling has declined over time as the technology improves, it does remain higher than the cost to collect motor fuel taxes.
Double Taxation
The State of Michigan already has a system designed to collect federal motor fuel taxes and vehicle registration fees to build and maintain its infrastructure. However, there are concerns about the long-term viability of motor fuel taxes given improving fuel efficiency and the integration of electric vehicles into the market. Charging motorists for both a toll and motor fuel tax could be viewed by some as double taxation; however, additional funding is needed to construct, maintain, and operate the existing transportation network due to its condition and age. Tolling is meant to supplement the existing form of taxes and fees due to the steady and continual decline in motor fuel consumption.
Today's high speed All Electronic Tolling technology does not require toll booths or stopping. Drivers can continue to travel at highway speeds. (NO toll booths in the middle of the road)
Only need space for a gantry over the roadway rather than real estate for toll booth construction. (No toll plazas at freeway exits)
Toll collection costs average between 12% and 18% of the tolls. (DOES NOT cost 50% to collect tolls)
Tolling means you must put toll booths in the middle of the road.
You must add toll both plazas at every freeway exit.
It costs 50% of the toll revenue to collect the tolls.
MDOT's Talking Michigan Transportation Podcast
| | |
| --- | --- |
| How does Electronic Tolling Collection work? | |
| | |
| --- | --- |
| | |
| Tolling program administration | |
| | |
Please take a moment to leave us your comments and share your input. Please note, the form will ask for contact information in order to add you to our stakeholder network.